Microsoft Teams, the ultimate collaboration platform – really? Part 2
My previous post has laid the ground for my answer to this essential question: yes, Microsoft Teams is the ultimate collaboration platform (you don't know what I am speaking about? Check it out!) – on one condition.
If used, configured, and adopted adequately.
As mentioned, Microsoft Teams is the swiss knife of collaboration, and as with an actual swiss knife, it is highly versatile. Still, if the user adoption is neglected, it can lead to substantial headaches for the admins (believe me, I know what I am speaking about). The endeavour of this short series is to highlight a few tips and tricks on how to exploit Microsoft Teams' full communication and productivity potential.
While the previous post focused on the "basics" (setting notifications right, chats vs channels and the three golden – or should I say purple? – rules), the following will present five productivity hacks every Microsoft Teams user should know – according to me, obviously.
Five Hacks that will improve your productivity and communication in Microsoft Teams
Hack 1: Save your messages!
If you're like me, you probably have Microsoft Teams installed on every possible device (obviously only if your organization's compliance policies allow it): tablet, smartphone(s), desktop, and it's probably even open in a browser – right? And I just love it!
To be completely device-independent is just so great, but I am digressing.
My point is the following: did you ever have the situation that you read a message on the go e.g.on your smartphone, and then completely forgot about it until the person pinged you again? I bet you do!
I have good news for you: the option "save this message" will be your best friend!
I tend to use this feature when I need to remember and respond to a message but cannot do it right away. But what does it do exactly?
It's actually pretty simple: as the name indicates it, it saves the selected message in a general list, which you can access by clicking on your profile picture and then on "saved". As soon as you have responded or processed the message, just tick the little flag to unsave the message!
Select the three dots on the right corner of a message (works both for channel as for chat messages

Select "Save this message"

Click on your profile picture

Select "saved", and here you go! In the left panel, you have the list of all your saved messages – click on one, and the respective conversation will be opened!

Unsave the message as soon as you have processed it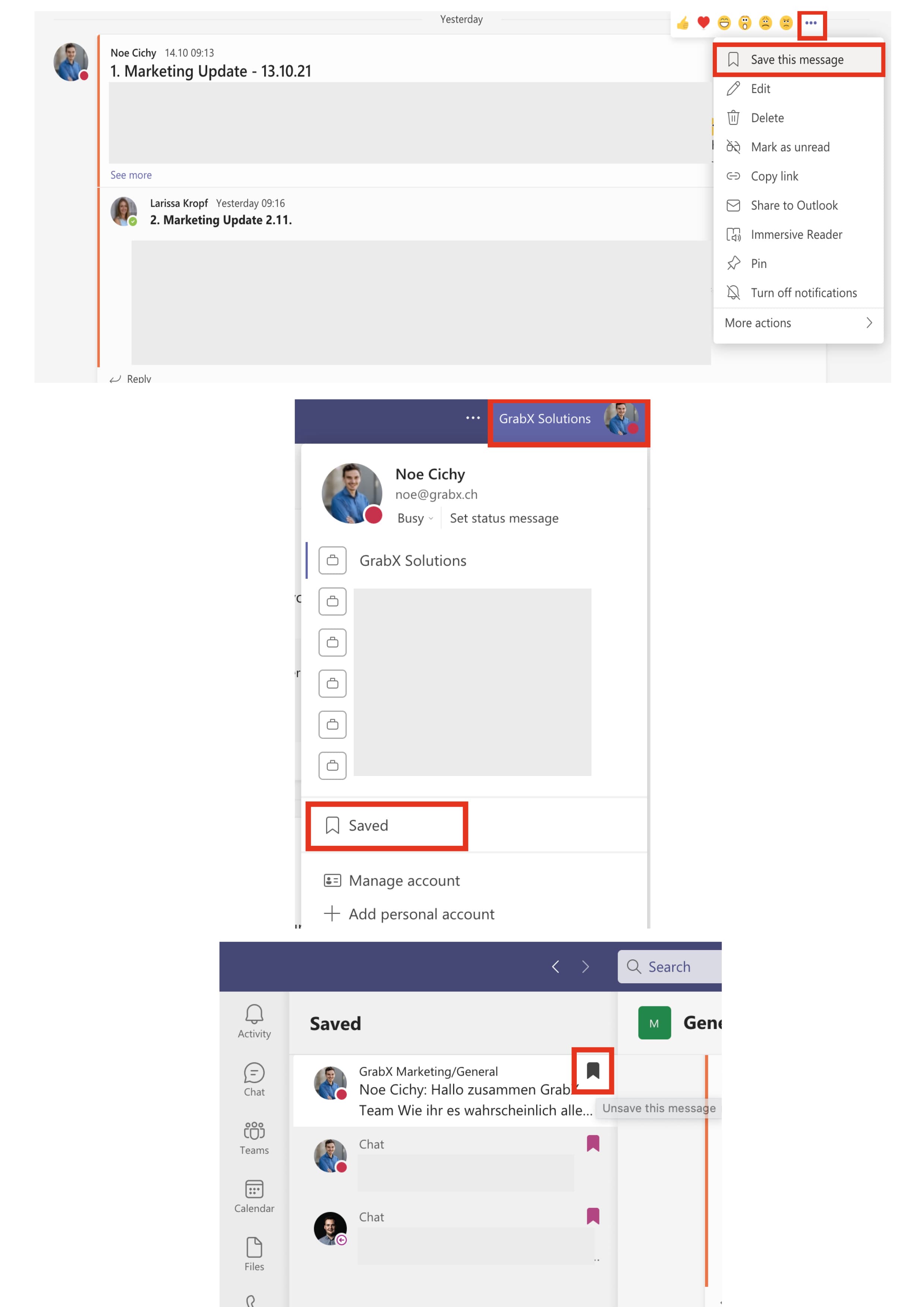 Hack 2 – Create a Task directly from a message
The previous hack highlighted how to "never" (never obviously doesn't really exist, but you know what I mean) lose a message out of sight, but you're probably thinking: that's handy, but what if I need to do something out of a message? In other words: what if there is a hidden or very explicitly stated task in the message? The "saved message list" isn't the best tool to manage my tasks!
You're entirely correct.
This list can get quite messy if you also use it to manage your to do's. However, Microsoft has you back! With a few simple clicks, you can create a new task from a message, which will be displayed in your To-do (in Outlook, Microsoft Teams and directly in your To-Do app!). You can even decide in which plan you want to add the task.
Select the three dots on the right corner of a message (works both for channel as for chat messages)

More Actions

Create Task!

Fill in the Task's different fields (plan, prio, due dates & details) and add it.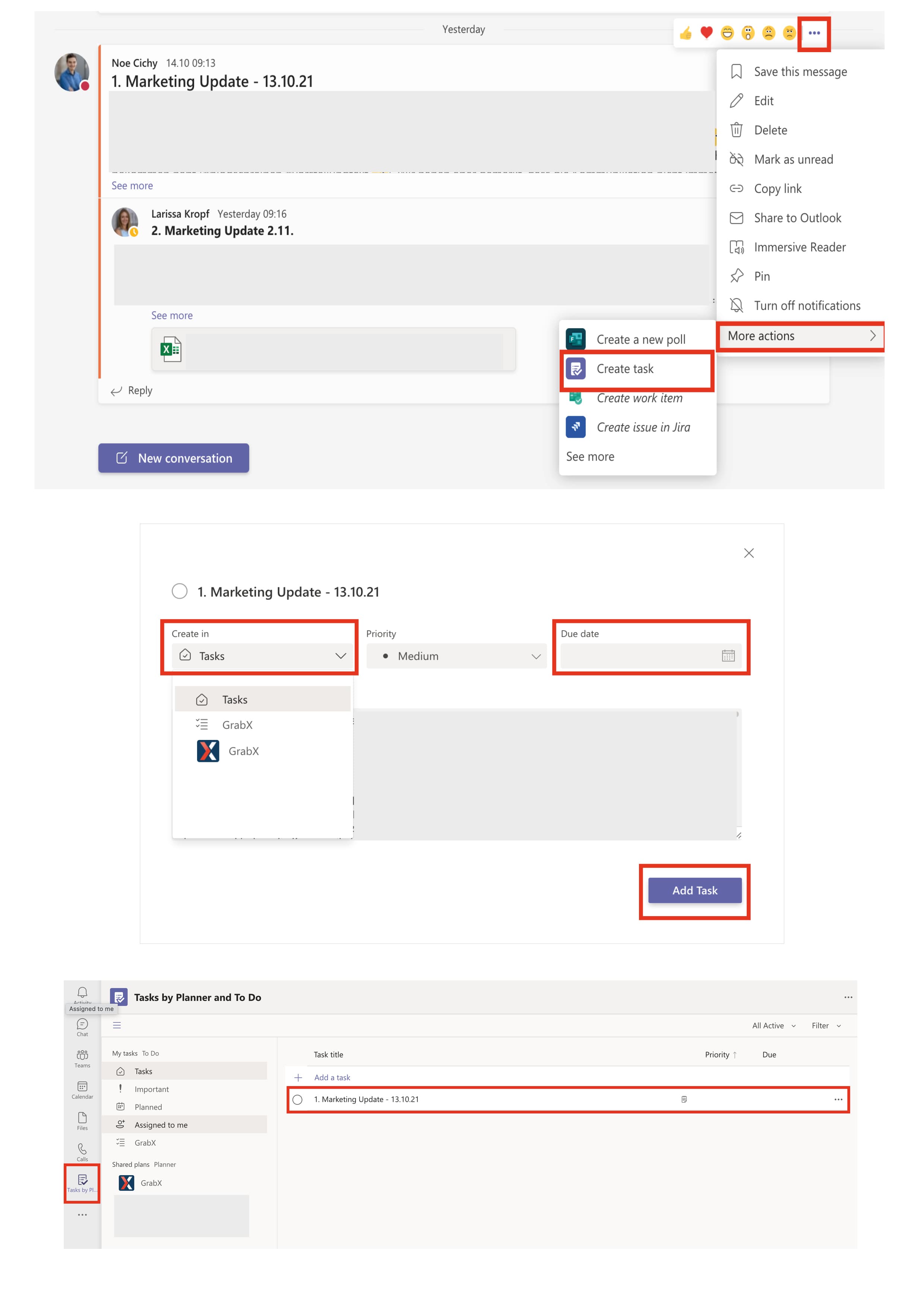 You'll find the created task in you "To Do" App: both in Microsoft Teams and in Outlook and obviously also in the "To Do" App itself.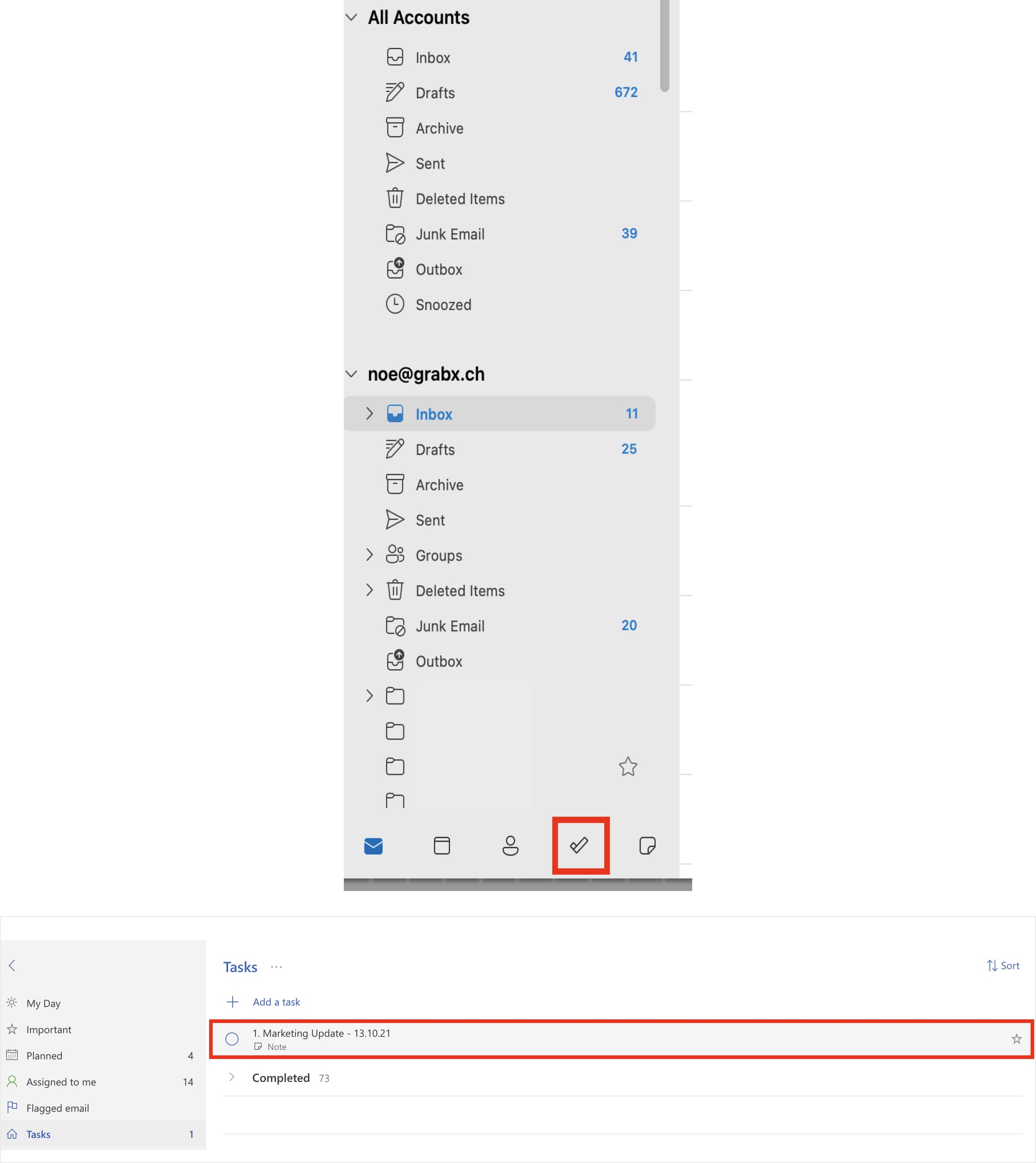 Hack 3 – Pin & Hide Channels / Chats
Being able to save single messages is well and good, but it is not solving the issue of the ever-growing number of Teams and channels in your tenant, right? If introduced without proper compliance, Microsoft Teams can quickly become a jungle! My dear colleague Thomas Roth has developed a fantastic tool helping you keep your Microsoft Teams environment under control, lean and clean by controlling who, how and what Teams are created. For instance, do you want that your Teams' names follow a specific naming convention to distinguish, e.g. between organisational- and project-based teams (e.g. with an [ORG] or [PRJ] suffix)? Or are you searching for a user-friendly solution to manage guests in your tenant (Thomas' Blog, which is actually in the making, will bring this feature nearer)? Thomas' tool is probably the answer!
In a nutshell: do you have an actual administrative pain, are you searching for a custom solution, or do you want to know more about the existing tool? Just give us a hint at info@grabx.ch!
Nevertheless, if you are not using a tool to keep the creation of Teams under control, you'll probably quickly have a tremendous number of Teams and channels appearing on your left blade in Microsoft Teams, rings a bell? My solution? Hiding the ones which are not that essential to me and pinning those which I cannot live, ok - that's probably exaggerated -, let's rather say work without.
3 Steps to Pin you favourite Channels:
Select the "Teams" blade in your Microsoft Teams

Click on the three dots on the right of the channel you want to Pinn

Select "Pin"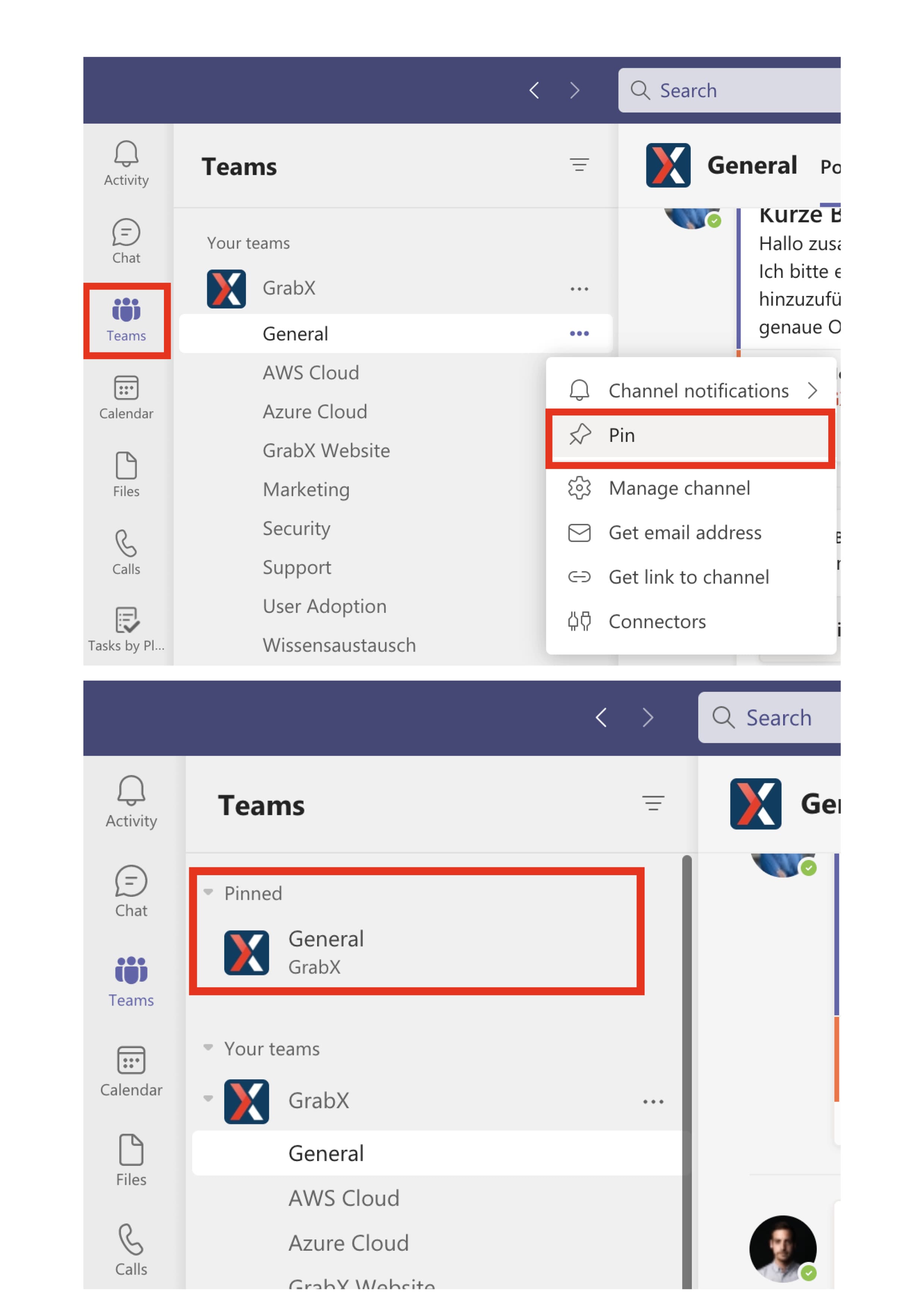 And there you go: you'll find the pinned channel at the top of the Teams list!
Hiding unnecessary Teams? No problem!
Select the teams blade in your Microsoft Teams

Click on the three dots on the right of the Teams you want to Pinn

Select "Hide"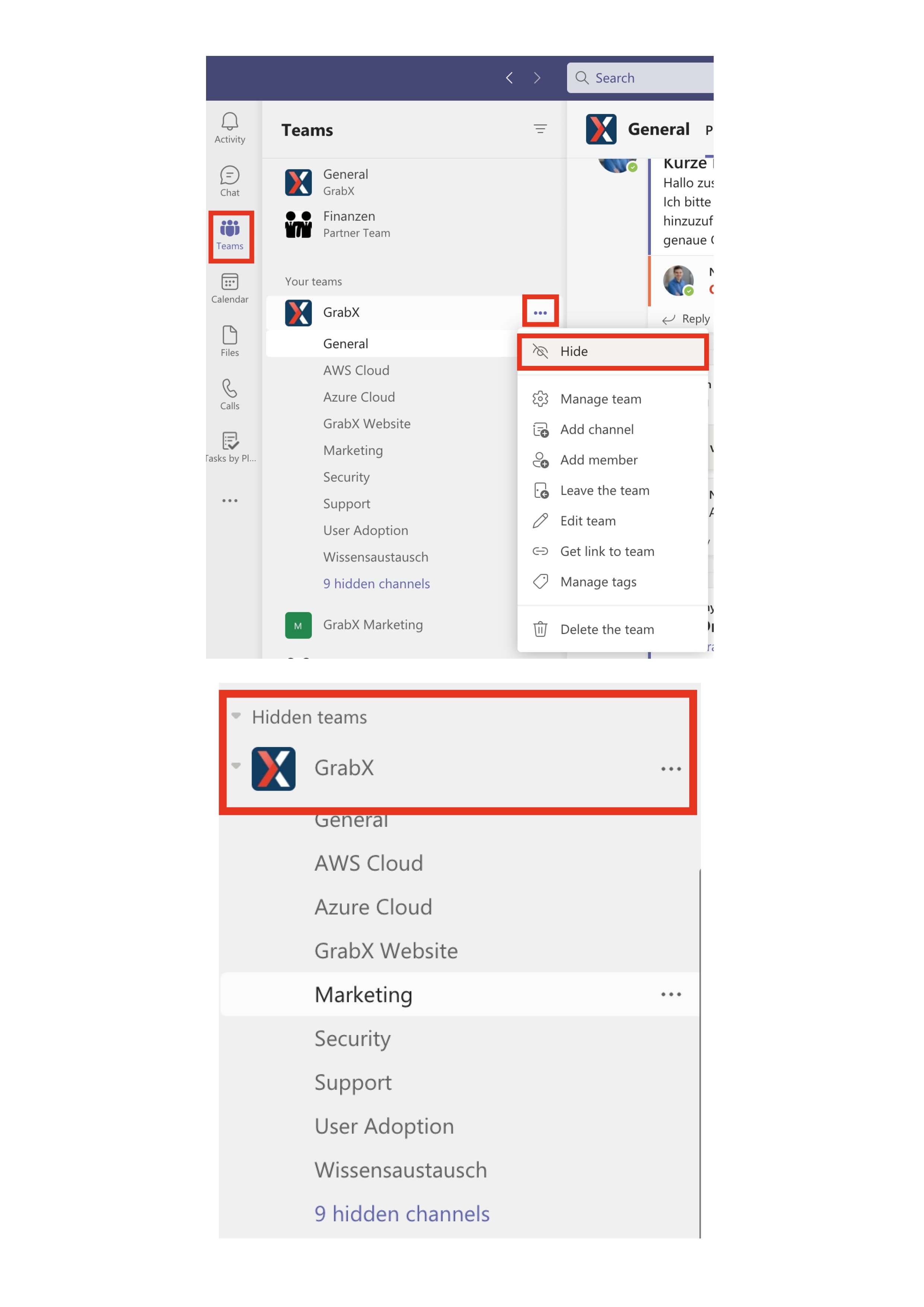 And away it is! You'll still find it at the bottom of your Teams list, under "hidden teams"
The good part? It works the same with chats! Try it out!
Hack 4 – Use Tags
But what if you hide a Teams or a channel and someone wants to reach you? Well, if they mark you and you've set your notification settings as discussed in my first blog post, it won't be an issue – you'll get notified and won't miss anything. Nevertheless, if they mark a whole channel or a whole Teams you might miss a piece of information or two – which isn't that convenient, especially if you're in a role in which you need to keep the overview of what's going on. This could be avoided by actively using Tags!
Tags? You might think: what the hell is that? Aren't we already tagging people, channels or teams in every message we're writing?
Well, no.
Microsoft Teams Tags help you connect with several members of a Team quickly and efficiently and can be used to identify members for more efficient collaboration. Depending on your Teams settings, custom tags can be created and assigned by owners and members to categorize people based on their respective roles, project, location, etc. (your imagination is the limit here!). After the tags have been assigned, you can use them to mention specific users according to their tag by using @ - the elegant aspect of it: a tag is handled as if you marked the person individually, i.e. you shouldn't miss anything important anymore – provided, again, that your notification settings are set "right" (see my first blog post for more Infos)!
Creating Tags for a specific Team
Select the teams blade in your Microsoft Teams

Click on the three dots on the right of the Teams in which you want to create a tag

Select "Manage Tags"

Click on "Create Tag"

Give your tag a name and select the people you want to mark using this tag
Hit "Create" and start using your tag with @!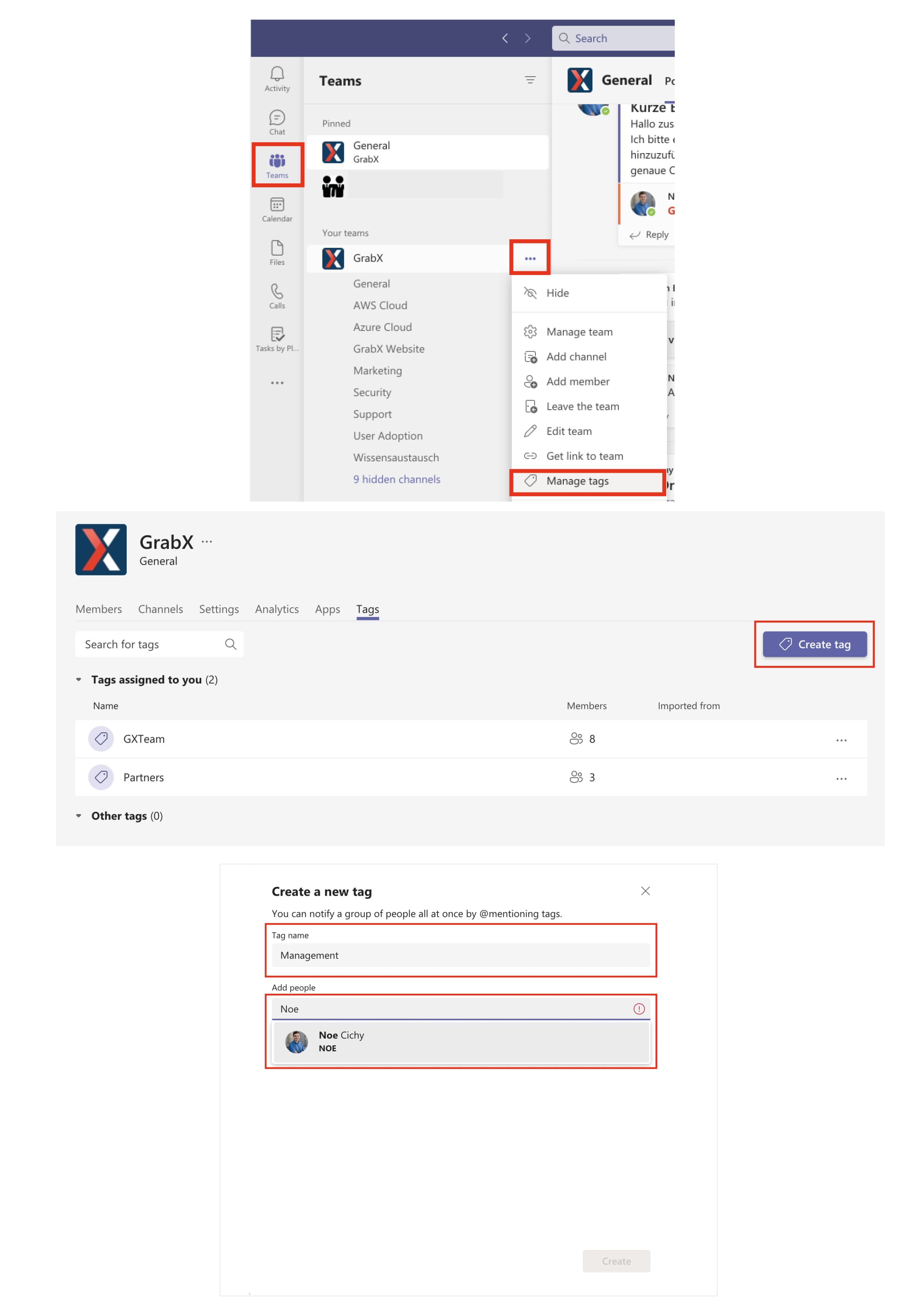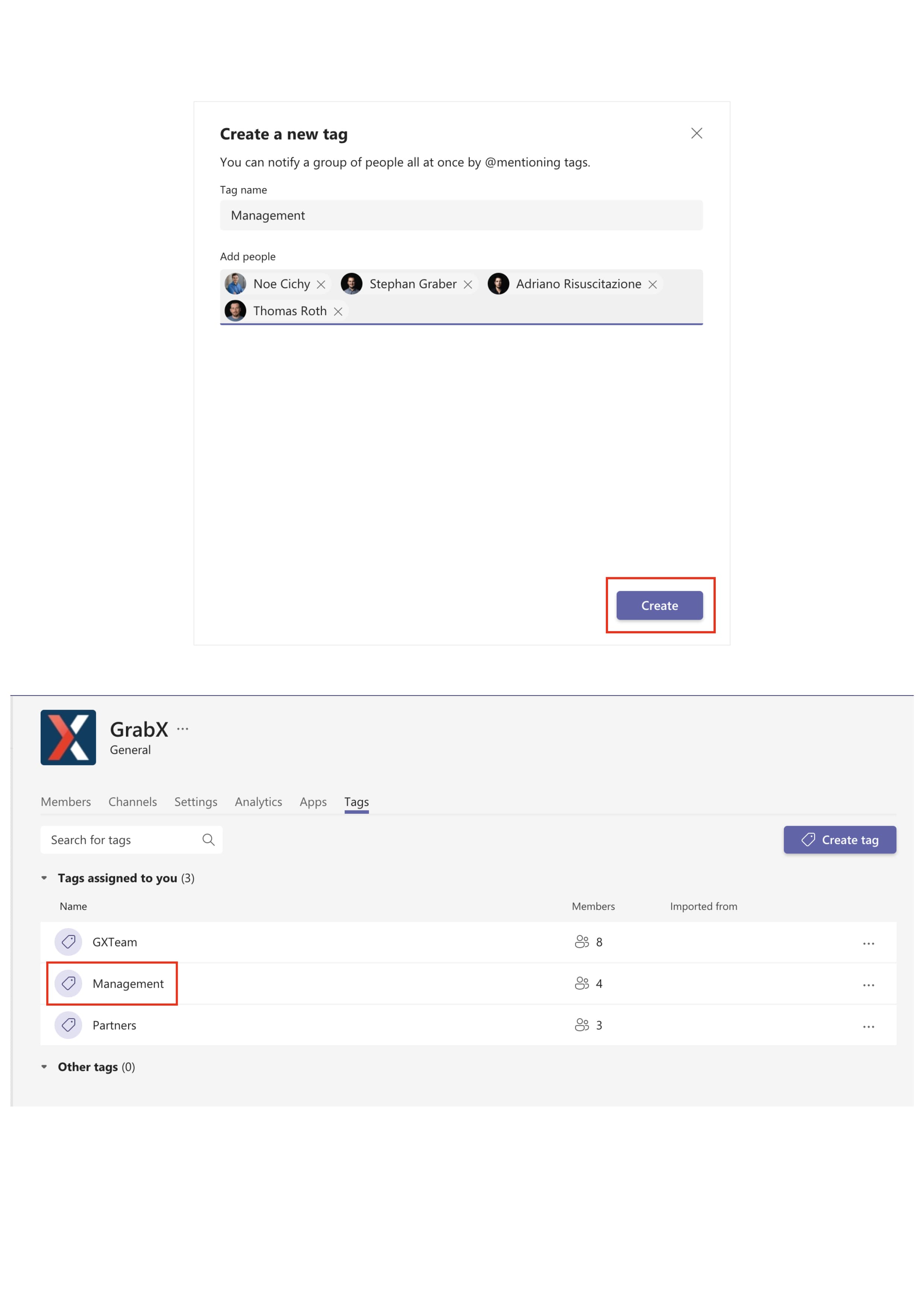 Hack 5 – Synchronize the document library of a whole Teams (every channel)
I want to finish this little series with a hack that I love and could not work without. It has nothing to do with communication but a lot with productivity (at least for me). I don't know how you work, but I am not a big fan of searching documents in Microsoft Teams. It might be a little bit old school – my colleagues would probably call me a "legacy dinosaur" – but I like to have my documents and folders in my Finder (or Explorer on Windows).
Microsoft allows you to synchronize the document library of single channels quite conveniently by clicking on "synchronize" in the" Files" tab of the respective channel (prerequisite: OneDrive should be installed on your computer).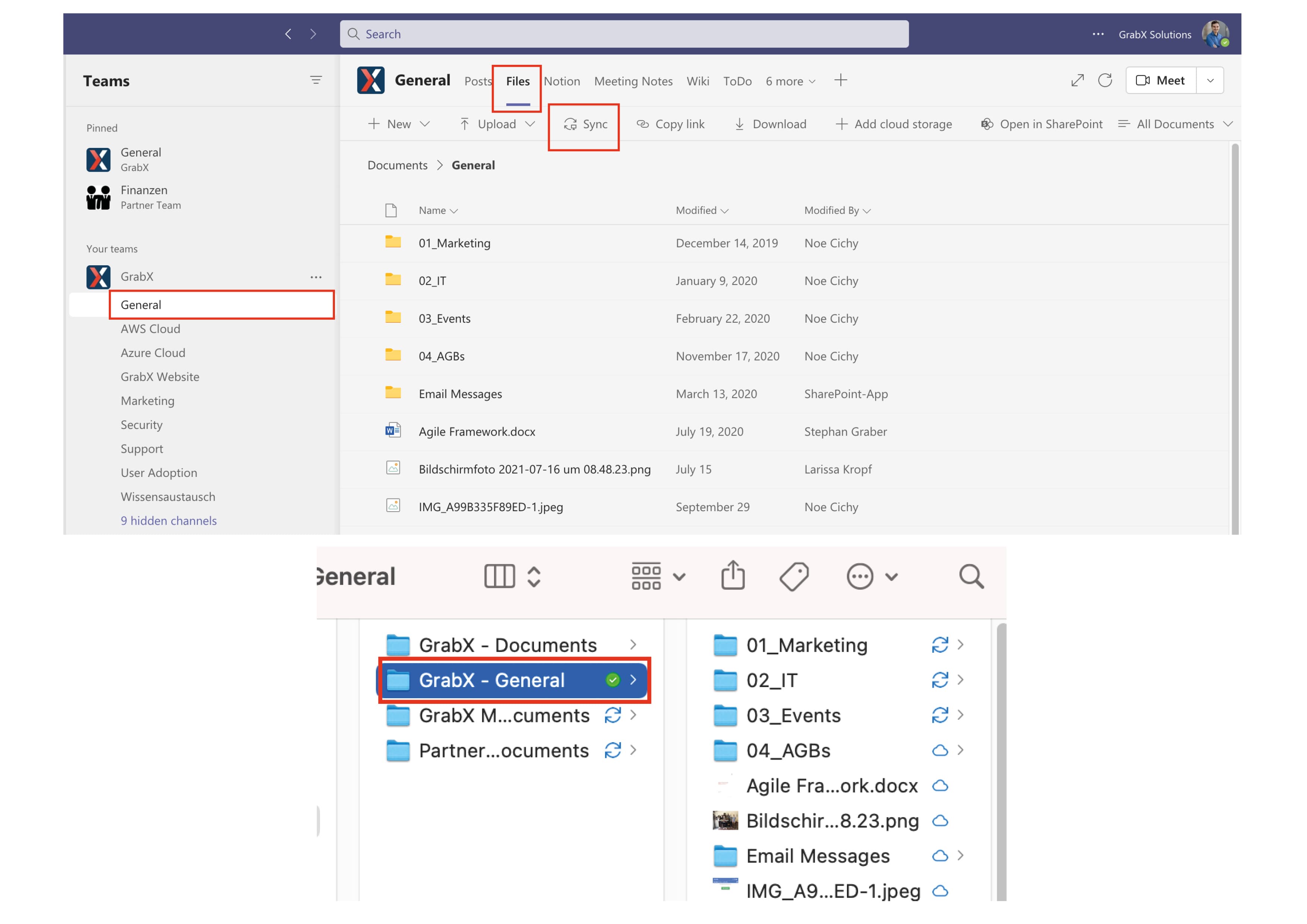 But what if I don't only want to synchronize the document library of a single channel but of the entire team? There is no obvious, direct way to do it in Microsoft Teams. But don't worry, as always, a "workaround" exist!
Select one channel of the Teams you want to synchronize

Select "Files"

Hit "Open in Sharepoint"

In the opened SharePoint Online Site, click on "Documents"

Select "Sync"

And you're ready to go! Every channel is represented by a folder in which you'll find all the documents shared in this channel!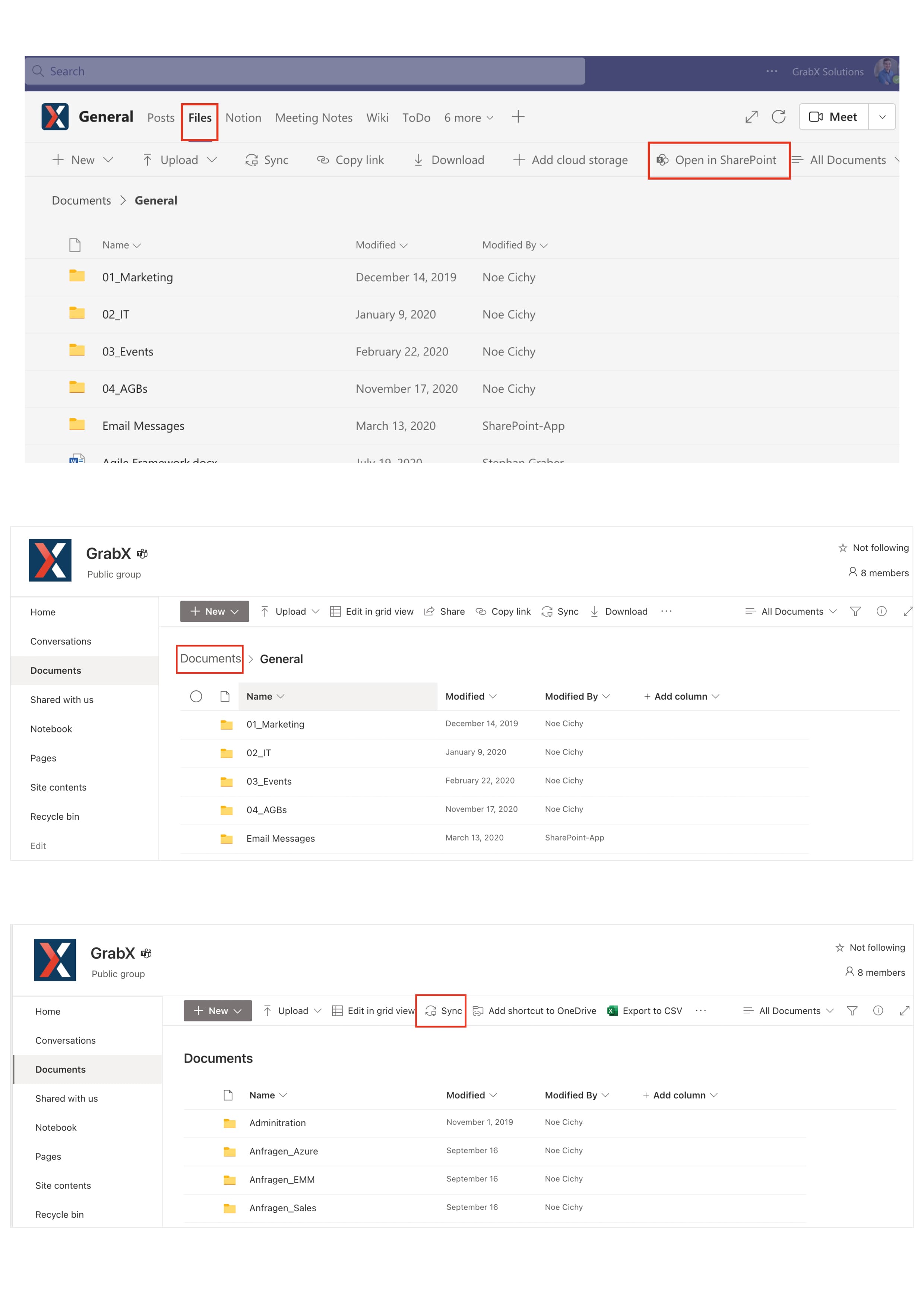 PS: slight hint if you want to synchronize Teams and channels – everything you change in your Finder/Windows Explorer will be synchronized in your Teams! So be careful if you delete things. If you want to know more about synchronization and Teams in general, don't hesitate to contact me – I am happy to help.
I hope you've learned something from this short series! The focus of it was to help you improve communication and productivity within Teams. Nevertheless, this won't be enough if you don't have passionate people inside your organization who will act as "Teams Champions". Building such a community can be pretty challenging, and we would love to help you set it up with you! If you want to know more about it and Microsoft Teams' potential in general, just contact me; we'll be pleased to support you.
PS: things change very rapidly in the realm of cloud computing. I try to keep my blog post updated, but it is, unfortunately, an ever-losing battle. So, if you realize that the content, especially the screenshots, is outdated, please don't hesitate to contact me to update it!